We met with Emily at the beginning of December when she was doing her 3-week ski instructor course in Canada together with 9 other upcoming Snowminds instructors in the beautiful ski resort SilverStar! Now the season is lacking towards the end, and we thought it would be fitting with a quick catch-up with our favourite Aussie!
Who are you, and how did you end up with Snowminds?
I am Emily, I am 20 and I am from Australia. I actually found out about Snowminds from an ad on Facebook. I thought "I've always wanted to be a ski instructor and travel to Canada, this sounds perfect." So I followed the link, read the application process and a week later I had signed up for what would be an adventure of a lifetime. I'm so glad I stopped to read that ad.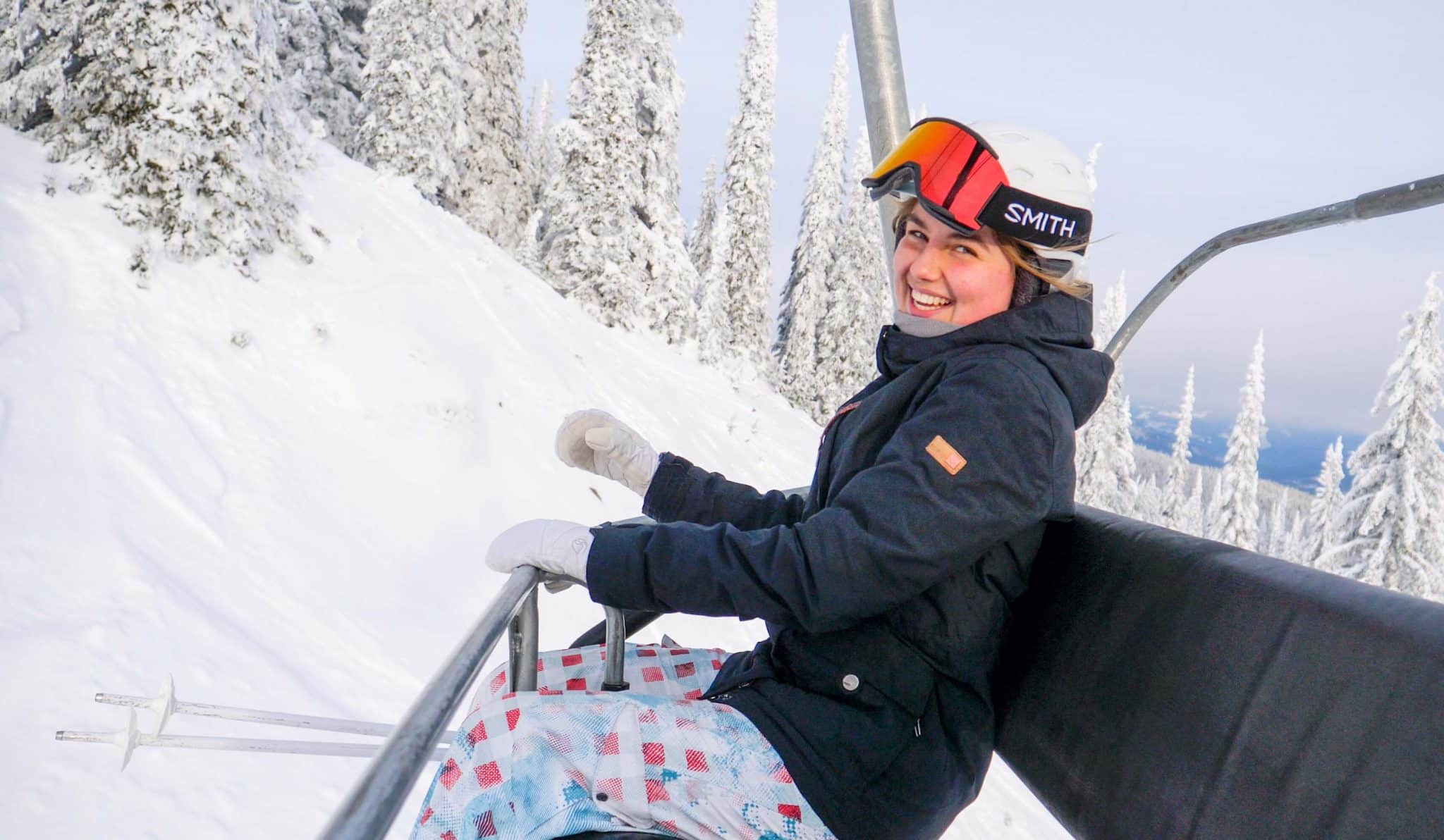 Emily in SilverStar
Why did you choose Canada?
I had heard nothing but good things about Canada! The beautiful scenery, friendly people, delicious food and amazing skiing! I had to go and experience that for myself and I can confirm that it is all true and even better in person. No regrets!!!
 How did you experience the ski instructor course in Canada and the Canadian ski instructor exam?
The three-week level 1 instructors course with Snowminds was so beneficial. All of our skiing improved like crazy and gave us plenty of time to adjust to skiing again and our new mountain. It also gave us the opportunity to bond with the rest of our group and the others taking the course, soon to be our colleagues and friends. The three weeks prepared us so much that the exam felt like second nature and we were nowhere near as nervous as we were at the start. By the end of the course, it was safe to say that we were all confident in our skiing, teaching and mountain knowledge and ready to take on our season.
Half of the Snowminds team in SilverStar
What have been the best thing about your season in Canada?
By far the best thing I got out of my season was the amazing lifelong friends I have made. I am so lucky to have met some of the most amazing people that made my season better than I could have ever imagined. But it's not surprising being surrounded by so many passionate, talented and friendly people that you have so much in common with no matter where they come from. The memories you make with people like this are something that can't be forgotten and will be cherished forever. I can't wait to see some of them when I go and visit some in their home towns in Sweden later this year.
What are your best tips to someone who is interested in joining for a ski instructor course in Canada?
My best tip is to go for it! No matter where you want to go this is one of the most rewarding experiences you could choose to do and you will get so much more out of it then you will expect. There's no way you could regret it
Skiing the fresh Canadian snow
//Emily
Do you want a season in Canada as a ski- or snowboard instructor?
If you're interested in a season as an instructor in Canada, we strongly recommend you to reserve your spot asap since we have a high demand on our different ski schools in British Columbia and Alberta! You can give us a call, or write us at [email protected] if you have any questions 🙂 Hope to see you in the snow!