Meet Trine who recently returned home from a season in Japan as a ski instructor with Snowminds. This makes her able to tick off both Austria, Canada and Japan from the world map. Besides the extremely deep powder snow that Japan provides, it's also a completely different culture. This can be difficult to put into words but Trine gives it a try! But when you, like Trine has skied all over the world – can you then pick a favourite destination? 
In the past years I have been during seasons in Austria and Canada and this time I decided to have a season in Japan. I've been asked many times "which place has been the best?". My answer to this question is always, that you simply can't compare them. It would be like a mother picking her favourite child.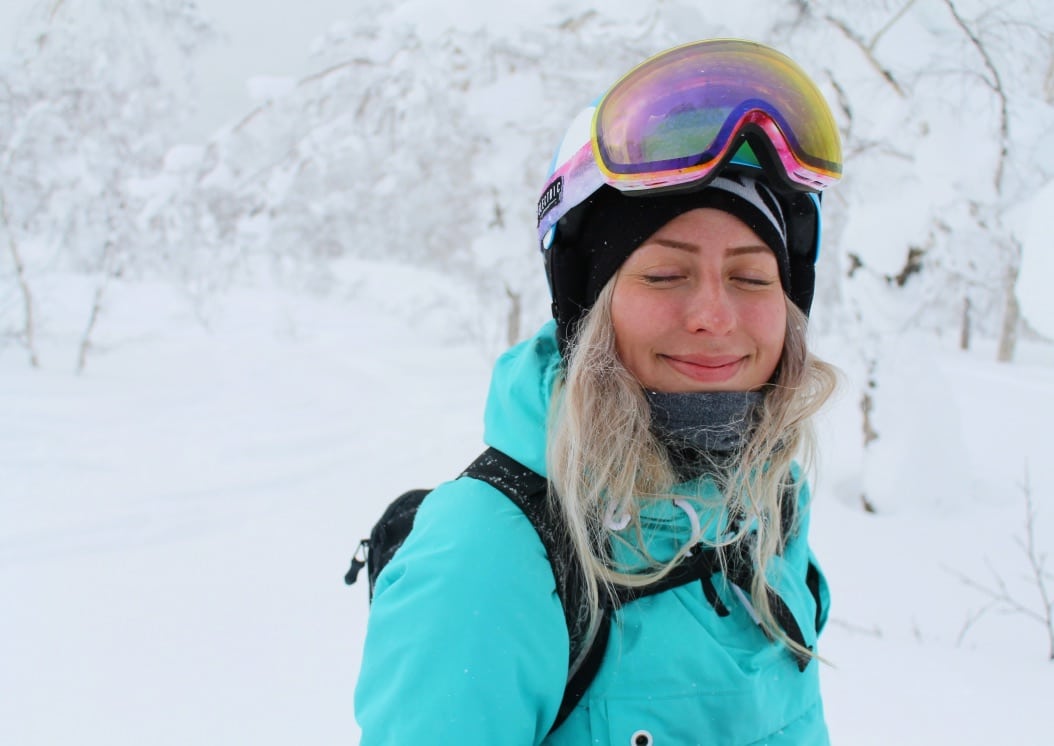 Trine enjoys the silence in the off-piste
Close your eyes and imagine a perfect day on the mountain, what does that consist of? Are you out in fresh powder, on a perfectly groomed slope or is it a sunny day in the park? If you have visited the Alps or the Canadian Rockies, then you have probably ensured one of the parts. Whether it is slopes, off-piste or park you probably have some preferences and it is that which forms the perfect day for you on the mountain.
Hiking days on Mt. Yoichi!
Another player on the market that you probably already know, is Japan, which I gave a shot. The sushi-country has for the past months been my home during my season. Currently, I've got 2 weeks left in the snow, before I travel across Japan.
Kawaii ✌️
I chose to have a season Japan to get surprised both culturally and in the depth of snow. Both parts completely swept me away and I'm so in love! The culture in Japan is perfectionist, fun and educational to experience. There is do's and don'ts for everything, which makes it easy to adapt. From meeting times to butt splash (you read it right) in the toilets, there is a manual for it all.
The Japanese charm!
The snow is unbelievably deep and soft, whereas the terrain is flatter than on other continents. This makes it easy to play around in for every level. Completely easy would be an understatement, since you can challenge your self in many ways here. One way is the touring/hike experience, which can take you to the highest places alongside with beautiful nature between trees, onsen's and volcanoes. You can even hike and ski the volcano!
Off-piste touring in Japan
Touring is a big part of the hype in Japan, which is understandable because it's incredible and overwhelming satisfaction when choosing a route that takes multiple hours to walk and then completing it. Before my own experience, i didn't understand the hype. It seemed ridiculous compared to etc. Canada where you can take a chair-lift to the mountain top without having to "work for it". BUT after my experience, my view has completely changed and I'm totally on the hype! At the same time, it's an unforgettable experience to share with your touring-buddies.
Japan gets around 20 meters of snow each winter!
One last thing that stroke me on my season in Japan was their groomers, like the conditions of the slopes. Every day they would be prepared perfectly as I've never experienced anywhere else! But if you think about it, it's not surprising that their perfection has been added to that as well.
Enjoying a cold Sapporo beer in the off-piste after some rewarding runs
Japan has everything you have heard off and even more! I hope you will experience it!
Thanks for the read 🙂
// Trine Størup Mortensen
Insta @Trinestoerup
If you want to experience Japan don't hesitate to contact us. If you want to become a certified instructor see all our courses here and send us an application yourself!