Welcome to the first part of my blog! In the next 4 blogs, I will give you an idea about my first season in Kaprun. Have fun and stay tuned for parts 2, 3 and 4.
The view from above the clouds in Zell am See during the course
A gap year … what am I gonna do now? That was the first question I asked myself after I received my high school diploma. My high school education was in the pocket and summer was just around the corner and studying.. well, that would still have to wait another year. I wanted a gap year. A sabbatical. Whatever you want to call it, I just didn't want to go back to school already.
But I didn't want to waste a year by doing nothing, I wanted to work, make money, but also have fun. That is how the search for the ultimate gap year started. And that's how I left for Austria 4 months later, with zero ski experience and just a bit of snowboarding experience, training to become a ski and snowboard instructor!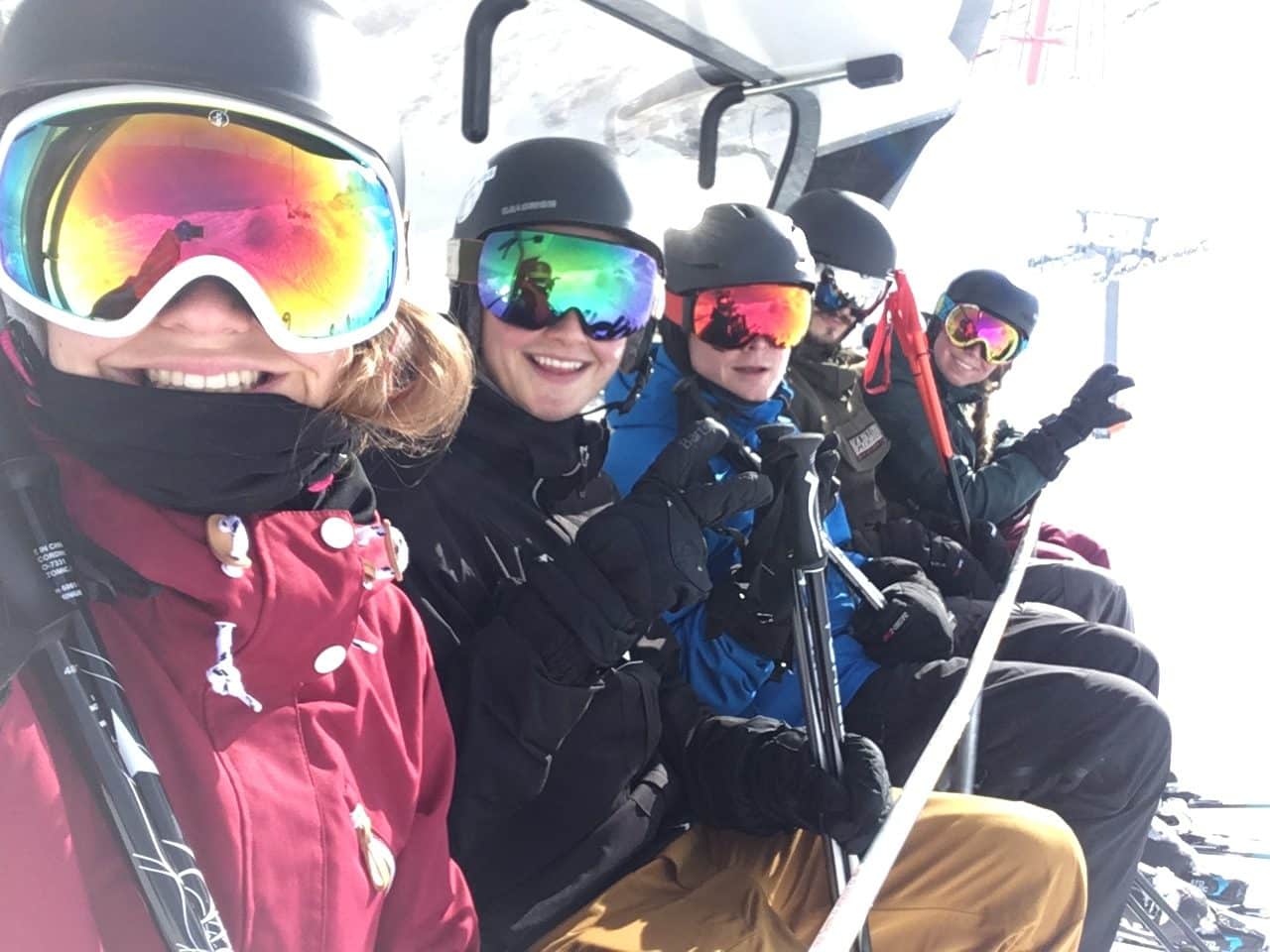 My group during the course
I discovered through Snowminds that it wasn't impossible to work abroad as a ski and snowboard instructor for a few months. I mean, how is it possible to find such a job with limited experience?  But Snowminds made me feel confident in achieving those dreams. An interview was held, a place on the Snowminds team secured and I was ready for the season!
The wind on the glacier made for some amazing picture moments
I left for Austria, along with the other soon to be teachers, not knowing what we were about to experience. Intense 5-week training followed. We were taught everything in that training; the basics of skiing, how to teach, how to deal with children, the German language, etc. It was tough for me. I had never skied before and there I was: day one, no experience, go ahead!
The first days on ski's
Fortunately, I was not the only one with less skiing experience. Almost immediately we ventured to the first red slope and with some emotional support here and some tears there, I managed to get down the mountain. How did that look like you ask? Let's not talk about that! At the end of the course, however, I was able to come down the same slope with somewhat confident short turns. With the right training and commitment, you will see how much you improve in 5 weeks!
Snowboarding was way more relaxing for me
The snowboard part went much better for me. That's how it went for everyone and we had the basics covered in no time and we could start the "real" work. We were very lucky with the snowfall that we had during the course and so we were able to snowboard off-piste a lot. Those days were the ones I enjoyed the most!
We held a freestyle 'competition' as a part of the course; we had built our kicker
The exams are slightly different for dual teachers than for ski instructors. We do the exams twice: once for skiing and once for snowboarding. We were very lucky with the weather on both days and that helped out all of us. With skiing, you have to pass 3 practical exams and with snowboarding, we did 6 practical exams. The skiing exams were kept pretty basic, which were in my favour. The snowboarding exams were a little more intricate; we had to do switch snowboarding, some jibbing, carving and more. 
Right before we started the practical ski exam
Only at the end of both the exams, we got the full result: I passed! Well, you got me there. I had been so incredibly insecure about skiing and actually about snowboarding too, but I made it! A tear of happiness could not be held back, haha
We made it!
Those 5 weeks flew by and I was sad that I had to say goodbye to everyone so quickly, but luckily I didn't have to travel far because I stayed in Kaprun. The house where I was going to stay was only 1 block away and we were there in no time. I thought it was great that I was able to stay in Kaprun; maybe that meant I wasn't going to discover a new environment, but I still ended up in a completely different situation. Together with my new roommate Isabelle who had also done the training through Snowminds, we started working in the ski school.
I could only smile after the course
In the next part, you'll read more about my first few weeks in ski school!
Love,
Susanne

It's possible to become a Snowboard instructor like Susanne!
See more about our 3-week snowboard instructor course in Austria here.